Btissame Zouini 
I am interested in studying the various factors that ensure the wellbeing of young adults, teenagers. I work as a high-school teacher in Tetouan, have a master degree in Neuroscience and Biotechnology, and now I am pursuing with my postgraduate studies in epidemiological neuroscience.
My Ph.D studies are based on the MeSHe study and focus on aggressive behavior and its correlates in teenagers.
Publications
2019
Zouini B, Senhaji M, Kerekes N (2019).
Self-reported aggressive and antisocial behaviors in Moroccan high school students. Psihologija, OnLine-First Issue 00, pp 1-1 DOI: 10.2298/PSI181225001Z
2017
Sfendla A, Zouini B, Dina Lemrani D, Berman A, Senhaji M, Kerekes N (2017).
Psychometric Properties of the Arabic Version of the Drug Use Disorders Identification Test (DUDIT) in Clinical, Prison Inmate, and Student Samples. International Journal of Behavioral Medicine 1–8. doi: 10.1007/s12529-016-9623-2
Academical works 
Btissame Zouini, Master in Neurobiology "Association between physical activity and the self-reported aggressive behavior in Moroccan student population" Abdelmalek Essaâdi University; Faculty of Science of Tetouan (2014)
Papers in Paparations
Zouini B., Sfendla A., Råstam M., Senhaji M., Kerekes N.
" Somatic problems of children living in the shadow of abuse and addiction"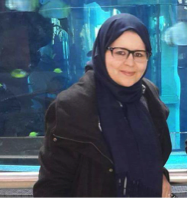 Abdelmalek Essaadi University
Sciences Faculty of Tetouan
Tétouan, Morocco
Teacher
Ph.D candidate