Anis Sfendla
I received in 2011 a Bachelor's Science degree in Biological and Life Sciences from Moulay Ismaïl University Meknes, and in 2014 a Master's degree in Neuroscience and Biotechnology from Abdelmalek Essaâdi University; Faculty of Science of Tetouan, Morocco. I am interested in studying personality profiles coupled to criminal behaviour.
My current research topic is based on the MeSHe project and focuses on addiction and aggression in the sample of Moroccan prison inmates. Other professional interests of mine include smartphone attachment issues, logistics and transportation.
Publications
2018
Sfendla A, Ahlström B H, Lemrani D, Senhaji M, Kerekes N (2018). Risk and protective factors of drug dependence in two Moroccan high-risk male populations. PeerJ 6:e5930 doi: 10.7717/peerj.5930
2017
Sfendla A (2017). Measuring drug use for prevention and prediction in Moroccan high-risk and general population samples (Doctoral thesis, University Abdelmalek Essaadi, Faculty of Sciences, Tétouan, Morocco) 
Sfendla A, Zouini B, Dina Lemrani D, Berman A, Senhaji M, Kerekes N (2017). Psychometric Properties of the Arabic Version of the Drug Use Disorders Identification Test (DUDIT) in Clinical, Prison Inmate, and Student Samples. International Journal of Behavioral Medicine 1–8. doi: 10.1007/s12529-016-9623-2
2016
Falka Ö, Sfendlac A, Brändströmd S, Anckarsätera H, Nilssona T, Kerekese N (2016)
Personality and trait aggression profiles of male and female prison inmates. doi: 10.1016/j.psychres.2016.12.018
Papers in Paparations
Zouini B., Sfendla A., Råstam M., Senhaji M., Kerekes N.
" Somatic problems of children living in the shadow of abuse and addiction"
Sfendla A, El Emrani L, Senhaji M.
"Health Related Quality of Life in the Moroccan general population: reliability and validity of the DUKE Arabic version."
Ed-dra A, Rhazi Filali F, EL Allaoui A., Sfendla A.
"Prevalence of Clostridium perfringens in sausages sold in Meknes city, Morocco."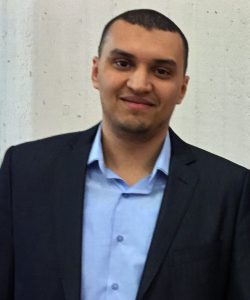 Abdelmalek Essaadi University
Sciences Faculty of Tetouan
Tétouan, Morocco
Ph.D in Biology, Neuroscience